Jingle Bells '02
Family Christmas Single: click here to hear MP3 version.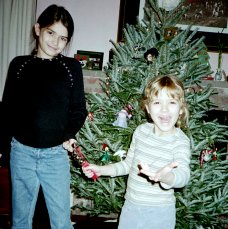 Alice vocals ("a day or two ago..."), piano, bells
Madeline lead vocals ("dashing through the snow"), organ, additional percussion
Jennifer keyboard bass, backing vocals
Bob guitars, backing vocals
produced (with drum programming) by Master Cylinder, a.k.a. "Uncle Peter" at the Music For Picture studios.
Click one of the thumbnail pictures below to see a larger version.
| | |
| --- | --- |
| | Madeline shakes the shaky egg, adding additional percussion to the verses. |
| | Alice, with some coaching from Jennifer, does the second verse of the traditional "Jingle Bells" lyrics as the voiceover in the introduction, for which Alice also plays piano on a separate track. If only Bob had noticed the wah-wah pedal on the floor to their right sooner. |
| | The Master (Cylinder) at work. |